Magic
---
The magic of the beautiful smile lies in its similarity to the natural one in shape, size, and arrangement of the teeth - a smile that reflects the individual characteristics of each patient. A smile which, in combination with healthy gums and pearl white color of the teeth, ensures irresistible glamorous look.
---
Esthetic Dentistry
What's better than to get treatment which will protect your teeth, will make them more beautiful and most importantly - will last for a sufficiently long period of time? Now that's a real revolution!
See details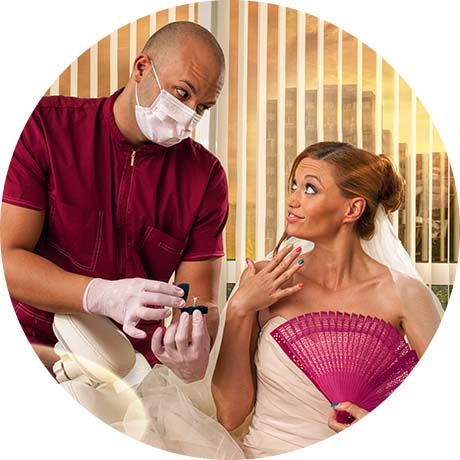 Implantology
They call it a miracle for a reason. Implantology opens a whole new world of possibilities. It provokes smiles and brings hope to those who have lost it along with some of their teeth.
See details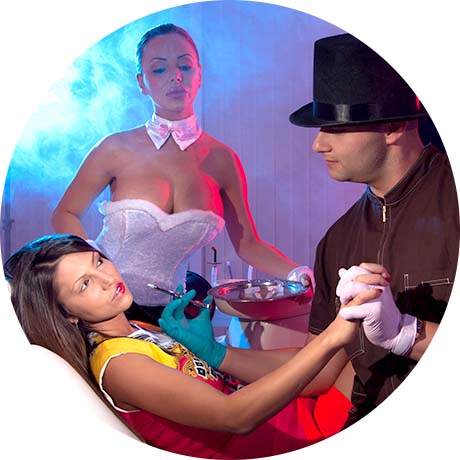 Fillers
The procedures effectively reduce lines and wrinkles, restore the natural fullness of the lips, improve the contour of the face, as well as the structure and elacity of the skin.
See details
Art
---
Our work is not just a treatment - it is an art inspired by the perfection of nature! Healthy teeth go hand in hand with the beautiful frame of the lips and the magical glow of the skin of every single patient. This is why an integrated approach in creating stellar vision in required. We deal successfully with different cases and we ensure a perfect result.
---
After restoration, the tooth looks as if it never had a defect. You get only the best of modern dentistry.
You get art restoration
We are proud of the excellent quality of all the procedures we offer, and we strive to always make sure that the patients can see everything that is happening through the lens of the interoral camera. The before and after photos speak best of the magic that happens here.
Ordinary filling

Any suitable materials like amalgam, cements, semiprecious alloys, chemo and photopolymers can be used. The application of a single layer, requires basic dental qualification. The filling can be done with a basic equipment, no requirements to the working environment, no support staff and no working protocol. Any dentist can offer you a filling.

Art restoration

For this procedure we use dental composites with properties closest to the natural enamel and dentin. The material is layered and the mechanical and optical properties of the tooth are fully restored. A dental chair suitable for a comfortable stay, special lighting for excellent color perception, and the use of a rubber dam are mandatory requirements.